Technology
Combining the latest tech with world-class personal care
The HalcyonTM radiotherapy system delivers high-quality radiotherapy treatments with speed, accuracy, safety, and comfort. Created by Varian Medical Systems, this innovative treatment technology platform treats cancer without surgery by using high-quality image-guided intensity-modulated radiotherapy (IMRT) or RapidArc® radiotherapy.
Individualized to treat a patient's specific cancer, IMRT and RapidArc are two ways of precisely targeting tumors with finely-shaped beams to maximize dose to the tumor while minimizing exposure of the surrounding healthy tissues and organs. Because of its versatility, the Halcyon system can be used to treat a wide range of cases, including prostate, breast, head and neck, and many other forms of cancer.
Halcyon, Varian's latest breakthrough in radiation treatment for cancer, was designed to elevate patient care while simplifying and shortening virtually every aspect of the treatment process, enabling clinics and hospitals to deliver leading-edge care in an environment that's more patient-friendly than ever.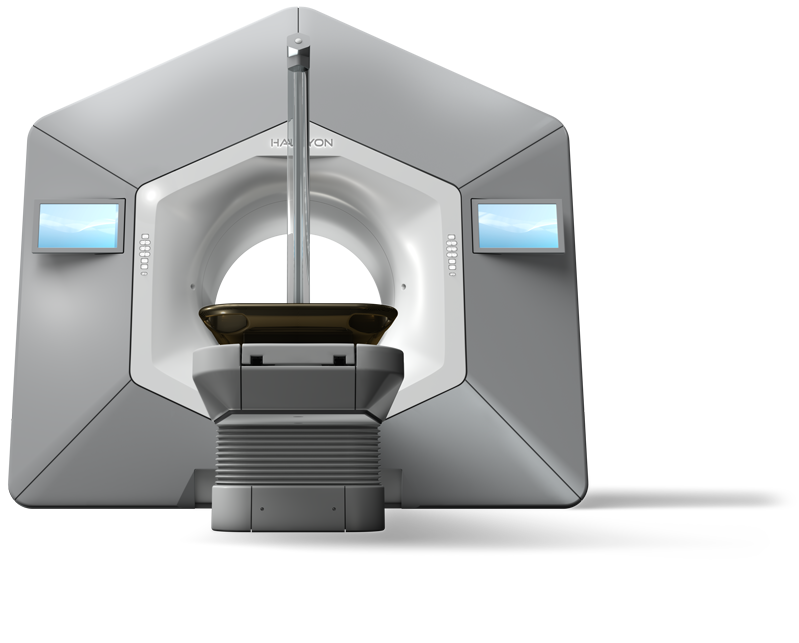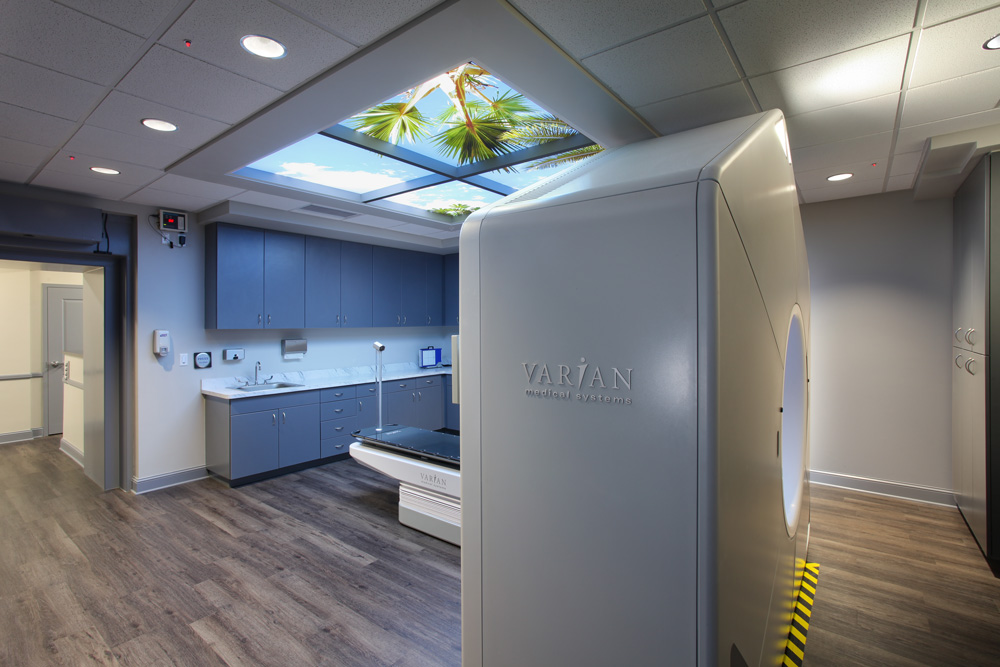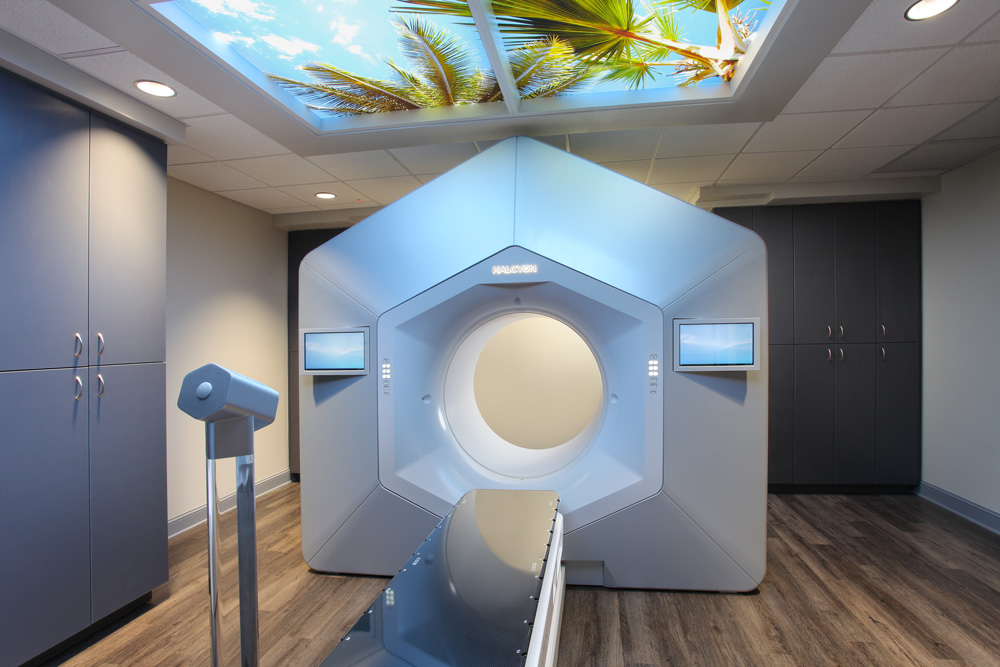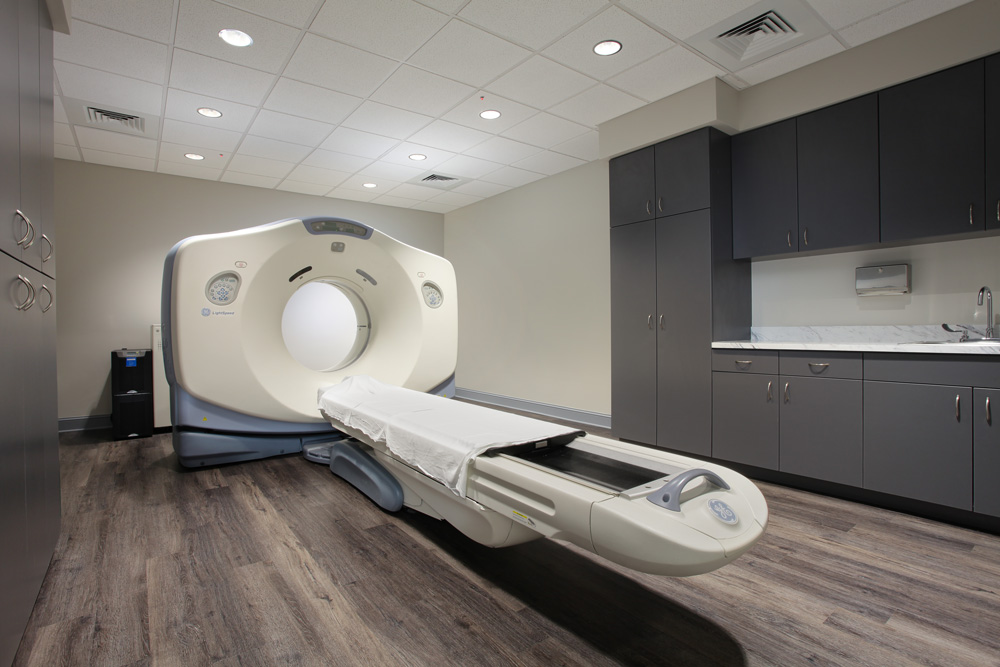 Advanced Therapy Delivered Quickly
» Provides treatment with great accuracy, precision, and speed through high-quality image-guided radiotherapy.
» Offers noninvasive radiotherapy treatment with no post-surgery recovery period.
» Delivers outpatient treatments » Provides image-guidance technology that targets tumors with pinpoint precision, delivering accurate doses to tumors while minimizing exposure of the surrounding healthy tissue and organs.
» Enables faster treatments—often in less than 15 minutes. Shorter treatments can be more precise because there is less time for patient motion or tumor "drift" during a shorter treatment.
» Enhances treatment accuracy through its "multileaf collimator," a patented beam-shaping accessory that was also engineered to minimize scatter radiation to surrounding healthy tissue. The multileaf collimator shapes the radiation beam to match the exact size, shape, and position of a patient's tumor.
Greater Patient Safety and Comfort
» Requires patient verification before treatment can commence.
» Offers a fully enclosed gantry, enclosing all moving parts that could otherwise collide with the patient.
» Touch guard technology pauses treatment or motion in the rare case that a patient bumps into the wall of the bore (i.e., the opening through which the treatment couch moves the patient into the treatment position).
» Verifies all mechanical axes remain within product specifications through a daily automated machine performance check.
» Facilitates immediate and clear communication between patient and clinical staff through an integrated intercom with noise-cancellation and an integrated, couch-mounted camera that travels with the patient.
» Includes a wide and spacious bore (100 centimeters in diameter) with soft ambient lighting for greater patient comfort and relaxation.
» Provides smoother and quieter machine motions by powering the couch and gantry using linear brushless motors.
SPEED WITHOUT COMPROMISE
» Halcyon is designed to speed up every step of the treatment process while maintaining a high quality of care.
» Halcyon's streamlined and efficient processes allow treatment to be completed in only nine steps from start to finish.
» Halcyon was designed to provide treatment quickly and efficiently. Cone-beam CT imaging can be completed in approximately 15 seconds, and 4 RPM gantry speed saves time between fields.
» Most treatments are completed in about 10 minutes. That's half of what's expected with conventional machines.
» With Halcyon, it's possible to deliver complex IMRT plans in the same time frame as a typical RapidArc treatment.
ENHANCING PATIENT COMFORT AND PEACE OF MIND
» Halcyon treatments are noninvasive. There is no surgery, no cutting, and no overnight hospital stays.
» With its shorter treatment times and quiet operation, Halcyon provides for a more comfortable experience for patients.
» An integrated camera and intercom system allow for constant communication with the radiation therapist during treatment.
» If the patient accidentally bumps into the bore (the opening of the machine) during treatment, the collision-detection system immediately pauses treatment and motion.
» To further help patients relax, Halcyon enables music to be played during treatments.
» Features like a wide 100 cm bore; quiet operation; and soft, ambient lighting contribute to a less intimidating environment for patients, while the low treatment couch makes it easier for them to get on and off.
» Halcyon's imaging and treatment components are enclosed, so patients don't see anything rotating around them.
TECHNOLOGY THAT EVOLVES AS INNOVATION ADVANCES
» New features are continually being developed and released to keep Halcyon at the forefront of the latest advancements in radiotherapy.
» Halcyon will keep getting better at treating cancer as new protocols and enhancements are developed, incorporated, and updated directly into the system's software.