About
A Comprehensive Approach to Cancer Care
Here at the Premier Radiation Oncology believe in a comprehensive approach to cancer care that requires not only the highest level of technical excellence but also a personal atmosphere and positive environment. We hold ourselves to the highest standards of professionalism and compassion and treat every patient with respect, importance, and dignity. To us, the most meaningful parts of this vocation are the lasting bonds formed during these very difficult times.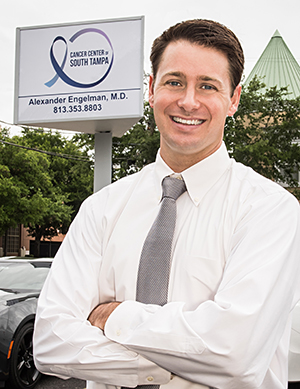 Dr. Alexander Engelman, M.D.
Board Certified Radiation Oncologist
Diplomat of the American Board of Radiology
Dr. Engelman, a native of Tampa, is a Radiation Oncologist with experience in treating all cancer sites. He is board certified in Radiation Oncology and is a Diplomate of the American Board of Radiology.
Dr. Engelman received his medical training at Georgetown University School of Medicine where he served as the chair of both the Student Medical Education Committee and the Professionalism Committee. During his tenure at Georgetown he received the Cura Personalis Outstanding Service award and the Eisenberg Humanities Dahlgren Memorial READ Award. He also obtained a Master's Degree in Physiology and Biophysics from Georgetown and completed his Internship in Internal Medicine at Medstar Georgetown University Hospital.
For his residency training, Dr. Engelman attended the University of Maryland Medical Center and the Maryland Proton Treatment Center, with additional time at St. Jude Children's Research Hospital. He has experience with external beam radiotherapy, LDR and HDR brachytherapy, partial breast irradiation, Gamma Knife and CyberKnife radiosurgery, and stereotactic body radiotherapy (SBRT). He is one of few radiation oncologists to receive dedicated training in proton therapy in Tampa Bay. Before joining the Cancer Center of South Tampa, Dr. Engelman was proud to serve our nation's veterans at the CW Bill Young Bay Pines VA.
Dr. Engelman and his team view cancer care as a calling and believe in a comprehensive approach that requires not only the highest level of technical excellence but also a personal atmosphere and positive environment. At the Cancer Center of South Tampa, every patient will be treated with importance and receive thoughtful, individualized care from Dr. Engelman and his team. We encourage patients and their caregivers to engage their optimism, spirit, and community in the fight against cancer.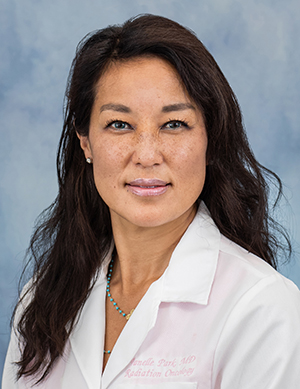 Dr. Janelle Park, M.D.
Board Certified Radiation Oncologist
Dr. Park grew up in Avon Lake, Ohio, outside of Cleveland. She attended Columbia College in New York City for her undergraduate studies, earning a major in Biology and a minor in Art History. She received her MD from a joint program with the Ohio State University School of Medicine and the Cleveland Clinic Foundation. Dr. Park completed her residency training at the University of Southern California, with training at Children's Hospital Los Angeles, and served as Chief Resident her senior year.
Dr. Park is board-certified by the American Board of Radiology and has over 10 years of clinical experience. She has served as the medical director of a Cyberknife Center and has extensive experience with stereotactic radiosurgery (SRS) as well as stereotactic body radiation therapy (SBRT). She has served on national committees, including the American Board of Radiology Standards and Guidelines Committee, as well the American Society of Therapeutic Radiation Oncology Workforce Diversity and Cancer Disparities Committee. She has extensive experience with IMRT, IGRT, and 3 Dimensional Conformal Radiation Therapy.
Dr. Park enjoys staying up to date with the constantly evolving field of radiation oncology. Dr. Park was the first local physician to utilize the integrated QFIx prone breast treatment system in the Tampa Bay area. She has training in Novotal/Optune treatments for malignant high-grade gliomas. Dr. Park's daily focus is on helping patients understand their conditions and formulating a plan that delivers the best possible treatment in a caring, compassionate, and personalized environment.
Our Team
A unique advantage of choosing Premier Radiation Oncology is our tight-knit and experienced team. Few centers can claim that the physician that reviews the clinical and diagnostic data before the consultation is the same doctor who plans the radiation treatments, oversees their delivery on a daily basis, and is available every day of therapy to guide the administration of treatment or answer any questions that arise. Furthermore, our staff has wide open lines of communication and frequent internal feedback to optimize your care and efficiently address any issues that arise. We are available to you any time with open minds and open hearts.
Our team has been recognized as a site of excellence and participate in the training of new radiation therapists through HCC.